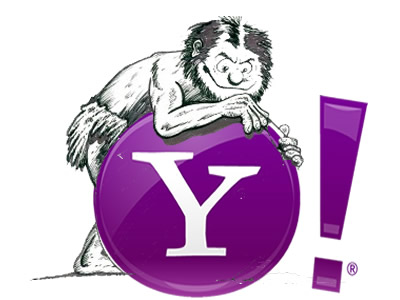 You may have heard in the news this past week about Yahoo's new CEO Marissa Mayer and her no work-at-home policy. She helped usher Yahoo back into the stone age when they made it clear that any Yahoo employee that currently works from home has until June to report to an office to work or look for work elsewhere.
According to an internal memo Yahoo believes:
"To become the absolute best place to work, communication and collaboration will be important, so we need to be working side-by-side. That is why it is critical that we are all present in our offices. Some of the best decisions and insights come from hallway and cafeteria discussions, meeting new people, and impromptu team meetings. Speed and quality are often sacrificed when we work from home."
While I agree it's helpful to work side-by-side with coworkers, this decision reaks of the knee-jerk, backward, "can't do" thinking I see so many companies suffer from. They're struggling with virtual teamwork and remote collaboration so they think they should just scrap the whole thing.
As a consultant helping companies make the shift to The Anywhere Office®, I can tell you first hand that virtual teams can be MORE effective and productive than co-located teams when instituted  properly, and that "speed and quality" can be unsurpassed. But it doesn't happen by accident; it requires a strategy and training.
When I consult with companies I walk them through a process to take a step back and define team and communication guideline. We also take a look at what kind of tools they have in place already, to determine if they are the right tools, and if they are being thoughtfully applied. Even these simple exercises have helped teams transform into lean, mean collaborating machines.
The punchline of the Yahoo situation is that Ms. Mayer talks about wanting the company to be the "best place to work,"  but in the same breathe she announces they are taking away the ability to have a flexible work agreement. Workplace flexibility is highly valued by today's smart young professionals; closing the door on it at Yahoo will ensure the best and brightest will look for work elsewhere. And don't even get me started on the litany of other benefits virtual work provides:  increased productivity, cost savings, environmental benefits,  disaster preparedness….
I should be thanking Yahoo's new CEO
In an interesting article I read in Fast Company they explained why Marissa Mayer and Yahoo actually did us a big favor:
"Over the years, I've seen many leaders and organizations follow the same path even though employees value the ability to work remotely, and there's a solid argument that telework actually benefits the business.The difference is that those leaders don't have a high profile and aren't under the same public scrutiny as Mayer; therefore, their decisions go unnoticed and unchallenged. Rather than singling out and criticizing Mayer, we should thank her for raising the veil. Yahoo's decision gives us the opportunity to expose and challenge the misguided, faulty reasoning many leaders follow when they decide to revoke their support for flexible work."
That's a very valid point and I'm delighted that the decision has generated so much discussion about telework, remote collaboration, and virtual leadership. The thing that really strikes me is Mayer's claim they need to have everyone in the same physical location to communicate and collaborate effectively – this coming from a technology leader that produces a number of tools (such as mail, calendar,Yahoo Messenger, Yahoo Groups, etc.) that are designed to help people work together regardless of time or distance! Read more
Wayne Turmell breaks down one of the key ideas in Darlene Derosa's Book 'Virtual Team Success' in this article from Management Issues.
In her very good book, "Virtual Team Success", Darleen Derosa has a lot to say, but one of the most helpful is her "5 Differentiators for Top Virtual Teams". It's based on lots of research but has the added value of being true on a gut level as well.

Here are the five ways great remote teams are probably operating at a higher level than yours and mine:
Nicole Boivin wrote to tell us about simpletelcommute.com:  a brand new, telecommute, virtual jobs, work at home and contractor job search engine that features job listings from 40+ major sites and smaller as well. I paid a quick visit and took the engine for a test spin. It seemed to work great and return a healthy number of search results from what appeared to be some of the top trusted legitimate work from home opportunity sites. There also appeared to be a clear organization structure to the categories of jobs to narrow down your search.
I'll be sure to spend some more time on this site.
http://www.simpletelecommute.com/
If anyone takes a closer look or follows up on any leads through this site I would really like to hear your feedback. Please leave a comment below.
Interesting infographic depicting the evolution of workshifting and remote work.
It's common practice that most of us spend some time each day working with remote team members and colleagues, but it's a reality that is very different to 10-15 years ago. The idea for the infographic was to try to show the movement over the past decade from remote work being a rare event to its current status as a common event. It proved more difficult to find numbers that worked together in a coherent way, but I think that the infographic tells the story it needs to tell.
For more about this graphic and these statistics visit Plantronics Blogcentral | The Smarter Office.
Do you have a messy, disorganized and cluttered workspace? If so then I have great news for you – your solution is at hand thanks to an eBook titled How to Design the ULTIMATE Home Office and it's sure to help you whip your office into shape!
This book was written by Hassan Osman who writes a blog called TheCouchManager.com about working remotely. Being we share a passion for mobile work he sent me a copy of his book to review and I was very impressed with his approach and envious of the photos of his very organized home office.
He normally sells this book for $19.95 but he generously offered to make it available free for one week to members of The Anywhere Office tribe.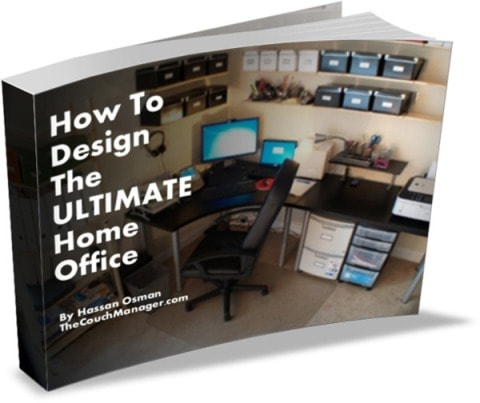 How to Design the ULTIMATE Home Office is a downloadable ebook that will help you transform your home office into a highly efficient space. It contains over 40 pictures that show you what organizers and tools to use and where to best position them for maximum impact.
Here's what you'll learn:
Where to put all that clutter that's been lingering around
What types of budget-friendly organizers to use for your reference files and documents
How to position everything on your desk to save you time and increase your productivity
Examples of applying the GTD principles on organizing all your "offline" stuff
To get your free copy visit this link and  sign up for his "Managing Virtual Teams" newsletter and you'll receive 2 FREE ebooks:
"How To Design the ULTIMATE Home Office"  ($19.95 value) – a GTD-friendly guide with over 40 pictures that will help you clear up your office clutter and create a more productive workspace
"Time Zone Meeting Coordination in 7 Easy Steps" - a free guide that will help you schedule virtual team meetings across different time zones without losing your hair (includes a downloadable Excel spreadsheet)
This is a limited-time offer exclusively for The Anywhere Office tribe, so make sure you sign up and download the books before Friday, Aug 17 at 9pm PST!
A few weeks ago I was interviewed by Elissa Vallano for an article she was writing for the Mindjet Blog about remote collaboration and one of the true benefits of working virtually: being able to hire the best talent regardless of location.
In this interview I shared tips for creating an effective distributed team, including my 3 keys for remote collaboration in The Anywhere Office – 1. a shift in perspective  2. finding the right tools and thoughtfully applying them and 3. becoming a conscious communicator. The result of these steps is a highly productive virtual team that functions as smoothly as its in-office counterparts.
The interview was used for an excellent article which you can find here, "Never hire based solely on geography again".
If you are not familiar with Mindjet,  they provide software and services that allow teams to collaborate in the cloud sharing tasks, mind mapping.  I recently discovered them and look forward to learning more about their services.
Their blog is full of great articles, so I encourage you to check it out!
Image Credits: Mindjet
Aaaaaaand it's a wrap! I would count last week as a successful Telework Week 2012. More than 69,000 pledged to telework.  Collectively, these pledges saved $5.5 million and removed 3,358 tons of pollutants from the air during Telework Week.  If all pledges teleworked for a year, they would collectively save $275 million.
Here is a snapshot of the final stats: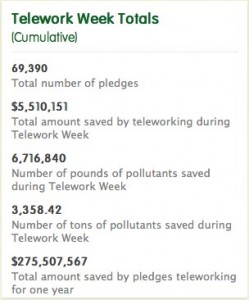 Pretty impressive! Currently, Telework Exchange and Cisco are compiling a report on the success of Telework Week 2012.   They will release the report at the upcoming Spring Town Hall Meeting on May 2.  To register for the event, click here.  To sign up to receive the latest information on the report, please contact info@teleworkexchange.com.
It's been proven time and again that telework or remote work can save money, be good for the environment, help improve employee recruiting and retention, and lead to increased productivity.
I challenge you to take this opportunity to go beyond "telework week" and really think about what providing a more flexible workplace can mean to you, your employees, and your business. Then stop thinking and START DOING!
Here are some resources we've put together to help you learn more about telework and jump start your efforts:
Announcing the Winners of our Virtual Team Management Webinar
Speaking of The Art of Virtual Leadership we had a fun contest encouraging you all to tweet about telework week and the resources we shared to help spread the word.  We are giving away 2 FREE enrollments to The Art of Virtual Leadership webinar (registration is currently $157).
The lucky winners are (drum roll please . . . . . . .) Read more