Are you a solo professional wondering how to setup an effective home/mobile office?
Are you a start-up looking to grow your business without the overhead of an IT department or real-estate expenses?
Are you struggling with how to keep everyone on your virtual team productive and on the same page?
Are you confused by all the mobile work technology available and wondering what tools are best?
Unchain yourself from an office;
work where and when you want.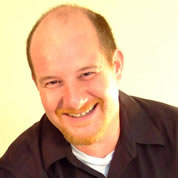 For more than fifteen years I've helped entrepreneurs, solo professionals, and businesses of all sizes realize the freedom and flexibility of The Anywhere Office. Now I'd like to bring that knowledge, expertise, and passion to your business.
The key to small business success is the smart use of technology. Just as there is no "one size fits all" approach to choosing technology for a business, there is also rarely one tool that will do everything you need. Making a work-shift to give your life more mobility and flexibility typically requires choosing several technologies that you can integrate into your workflow. If done right, you will have access to your data, calendar, contacts, and to-do lists from everywhere. And you can collaborate with co-workers and partners from anywhere.  It's about choosing the right tools and applying them thoughtfully. The foundation of The Anywhere Office is that you automate as much as you can and choose technology that fits with both your work-style and your lifestyle, so it works for you and improves your life instead of becoming some kind of digital collar.
The Problem:  You don't know where to start. There are so many tools and services available; which is right for you and the type of work you do?
As an eBusiness consultant and mobile work expert, I can show you how to use free and low-cost tools to setup your virtual office, start or grow your company,  market you business, and collaborate with others – from anywhere. I believe you should be able to do the kind of work you love, with the people you choose, regardless of where you are located.
Whether you work by yourself and need to collaborate with remote colleagues and clients, have a small team of co-workers and consultants, or are looking to grow your business while keeping overhead low – my strategy calls can provide you with the direction and actionable steps you need to succeed.
Here are some areas in which I have advised clients:
Developing a virtual business model to keep costs low and work with people anywhere.
Using cloud computing to set up an effective virtual or mobile office.
Automating common business processes to improve productivity and work smarter.
Using social media to build a brand, market a business, and find joint venture partners.
Employing eMarketing to build mailing lists, market products, and build a community of interest.
Setting up a professional, easy-to-maintain website or blog that doesn't cost a fortune.
Having dynamic meetings and real-time collaboration without the cost of travel or a physical office.
Marketing a business using webinars, teleseminars, and information products.
Launching an online business, with strategies and steps from idea to launch.
Turning expertise into information products to create multiple passive income streams.
Using free and low cost tools to run, grow, and market a business without being glued to a single location.
I get tons of questions from people on my blog, by email, and on twitter asking for guidance in these and other areas related to cloud computing, mobile work, and ebusiness: so I'm making myself available to a limited number of clients for one-on-one consulting/brain-storming sessions to jump-start your virtual business goals. I'll talk with you about your process and your workflow, and share actionable strategies you can implement to improve your business.
How does a strategy call work?
We meet by phone or Skype for a one hour personalized strategy session.  You tell me about your business challenges and I give you feedback, ideas, information, and resources that will boost your business and save you time and money. I record the whole thing and send you the video/audio after the call.
I usually charge $500 an hour for consulting, but I've realized that I enjoy working with entrepreneurs and small business owners; so I have decided to make a limited number of slots available each month at a discounted rate for those of you who are serious about making a difference in your business and your life. I enjoy working with people who are fired up about their projects and committed to success – if that's you, then lets get started!
How do I get started?
My session fee is $300 for 1-Hour, paid in advance and subject to my availability. I use Paypal, so you may pay via your Paypal account (if you have one) or by credit card (Visa, Mastercard, Discover, and American Express).
Because I coach one-on-one, my time is limited. I can only consult with a few people in this capacity each month – so if you are interested, sign up now before the month fills up. If you're serious about making a difference in your business and stepping up into the work/life style you want – use the button at the bottom of this page to reserve your spot.
What happens after I pay?
Clicking the BUY NOW on this page will allow you to pay via PayPal's service (you DO NOT need to have a PayPal account).  I will receive an email from PayPal after the payment is processed letting me know that you've paid. I'll respond to confirm within 24 hours and send a follow-up email with questions about what you want to discuss, what dates and times work best for our schedules, and all the necessary Skype and/or call-in info.
If, for any reason, there are complications with the check-out procedure, or you have not gotten a confirmation from me within 24 hrs., please contact me directly at phil@theanywhereoffice.com.
My 100% Money Back Guarantee
I'm sure that even one idea, resource, or tool I share with you will be worth your investment: I'll save you time, money, or make something you do much easier than before. If, after the our session, you don't think I have helped you or given you valuable guidance, I'll refund your money in full, no questions asked.  I get very excited when  someone I work with appreciates my help revolutionizing their business or workflow.  That is what I want for you.

Still have questions?
Email me (phil@theanywhereoffice.com) or call 772-237-0425. I'll get back in touch and answer any questions you have, but if you know this is for you then reserve your spot with the buy now button below. There are a limited number of these slots available each month and when they are full I can't take anymore.
Don't take my word for it – read what some clients have to say:

"I came to Phil with a problem. I was beginning a new consultancy and was determined to do so virtually, yet I knew nothing on the creation of a virtual business, particularly tools and technology. I felt hopelessly behind the curve. I found Phil's company, you guessed it, virtually, via a link from a group I have on LinkedIn for Virtual Executives. He was skyping on a split screen with an associate halfway around the world, and I realized the guy was onto something. Phil has this stuff down cold regarding the strategies, technologies, practices and low cost tools for setting up the virtual office and promoting that business. Right now I am in process of implementing his ideas for website(s), blogs, online video creation and promotion and more. Phil's counsel is clearly a must for anybody looking to set up a virtual office or leading virtual, distributed teams effectively. The costs of failing to do so are extraordinary! Montero Consulting (maybe Phil's advice) lets you capitalize on the virtual business dream of anywhere working with real dollars and avoid the pain of going it alone. He has become my CVOO (Chief Virtual Operations Officer) and, if you're reading this, he should be yours too." - 
Smartcompanygrowth.com
Karl Walinskas, CEO, Smart Company Growth

"Phil totally rocks when it comes to anything cloud computing related and was the one responsible for helping me move to the cloud for good! His advice is an absolute MUST for any entrepreneur that wants to be mobile, get things done and make money on the hop. The 'Anywhere Office' way of living is the ONLY way to go, as far as I'm concerned…" –  
VirtualBusinessLifestyle.com
Chris Ducker, CEO, Live2Sell, Founder of The Virtual Business Lifestyle

"When I first had the idea to create a resource for classical singers in the New England area I wasn't sure where to start. Phil helped me think through and plan all the steps necessary to proceed with my new venture. He helped me with all the decisions on choosing the right technology to launch my new eBusiness. Phil helped devise a strategy for a paid subscription site where subscribers have username and password access to all kinds of discussion boards, special calendars, and resources. Subscribers can sign up, register for events, and pay all dues and fees using our secure shopping cart system and web forms. We are able to cost effectively run our business with a very small virtual staff due to the website automation and collaboration tools they helped us put in place. I highly recommend him to anyone who wants to improve or launch an eBusiness" –  
BostonSingersResource.com
Lynn Shane, Founder and Executive Director of Boston Singers Resource

"Phil has made our site a hit with our fans. He helped us develop a multimedia website that allows us to easily keep in touch with our fans and keep people coming to our shows. Visitors can listen to songs on our music page, sign up for our newsletter, and check our calendar to find out where and when we are singing. Our mailing list is growing every day and it couldn't be easier. People fill out a form on our site and are instantly added to our mailing list. Once a month we send an email to our list letting them know about upcoming shows. We released a new CD and were able to put song samples on the site and email everyone to let them know. He also helped us develop a digital version of our press kit that people can request by email or download from our site. Now booking agents and clubs can easily get the information they need AND listen to the music on our website. Phil and Montero Consulting are great people to work with and they really know their stuff!" –  
Sha-Boomonline.com
Sal Giarraffa, Founding Member/Singer of 50's Doo-Wop Singing Group Sha-Boom
Why should I work with Phil?
I've spent the last 15+ years helping entrepreneurs, small business owners, and solo professionals start and grow their business. For many, I have become their small business technology advisor.  They trust me to develop a smart technology strategy for their business. They often come to me with a standard business process and I help them find ways to automate or use technology to make the process quicker, more flexible, and less expensive.
It's not just the best or newest technology, but the right tool thoughtfully applied. My experience working with businesses of all kinds has helped me develop a way to find and recommend the best tools. I can help you wade through all the technology available and choose the best tool for your workstyle and business, or the best way to apply the tool you already have in place. Have a communication, collaboration, or information sharing challenge? I can almost always recommend a free or low-cost tool that will address the issue.
I have a gift for making the technical non-technical. I have been told many times that I have the rare gift of being able to make technical things (hardware and software) understandable and non-threatening to non-technical people. I focus on results and tools that just work.
My Approach. I enjoy what I do and like connecting with energetic, positive, like minded people that are doing something important to them. I have an easy going working style and we'll get a lot done, have some laughs, and solve your eBusiness challenges
Show-em don't tell em! Many of the software and/or services I  recommend requires some setup and configuration.  If you don't have your own "tech guru" to handle this for you, I can walk you through the basics using screen sharing. You'll see my screen live as I take you step-by-step through whatever you need to know – and I record the whole thing so I can send it to you (via email or download) for later reference.
Yes, I want to Book My One Hour eBusiness Strategy Call ($300)